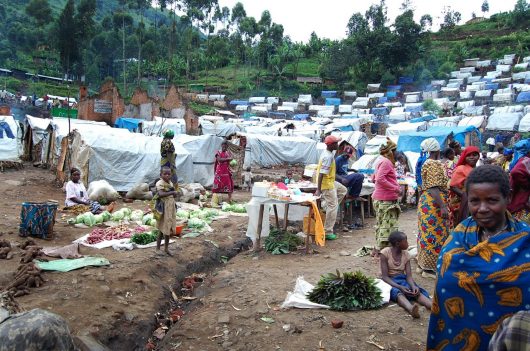 Persons displaced by Boko Haram insurgency in the North-East and living in Internally Displaced Persons' camps in the Federal Capital Territory, may not return to their ancestral homes again, going by the plans of the Federal Government.
The government is applying for land in the FCT to resettle them permanently.
The Minister of Humanitarian Affairs, Disaster Management and Social Development, Mrs Sadiya Umar-Farouk, disclosed this in Abuja on Thursday.
She spoke shortly after the President, Major General Muhammadu Buhari (retd.), inaugurated the National Humanitarian Coordination Committee to assist the ministry in delivering humanitarian services.
She claimed that the Abuja IDPs had lived there for years and might not want to return to their homes. Umar-Farouk added that the government would not force them if they were unwilling to go back home.
She said, "Just a few weeks ago, I visited the Minister of FCT and he has assured us that he is going to give us land where we will really resettle these people.
"Don't forget that these people have been there for a very long time. Some of them might never go back to their communities and you can't force them. That's why we are looking at how we are going to get land for them to really put structures and resettle them; we are doing that."
The minister was responding to questions on the hygiene situation in some of the camps, especially in the wake of the outbreak of coronavirus.
"Of course, coronavirus has negative impact on all populations, including our IDPs and the ministry is taking measures to see how we can sensitise these displaced communities in the camps as well as to supply them with all the medical needs to mitigate this virus.
"I am sure you know that a presidential task force has been constituted by Mr President and the ministry is a member. We are working day and night on how to take all the measures to prevent the impact of the virus in our country," Umar-Farouk added.
Speaking while inaugurating the committee, Buhari asked the military to intensify efforts to end Boko Haram insurgency, adding that peace must return to the North-East.
He also said his regime would ensure that communities destroyed by the insurgents were rehabilitated.
"As a result of the mindless actions of the terrorists, many of our compatriots have been killed, maimed, or displaced from their communities. This necessitated the efforts of this administration to develop immediate interventions and measures to alleviate the sufferings of those affected, and to ensure their proper resettlement," his media aide, Mr Femi Adesina, quoted him as telling the committee members.
On why he established the new ministry in 2019, Buhari said, "Because, what we receive from NGOs sometimes does not permeate, does not go down to the people there…So I got documents from intellectuals so that we could set up a ministry that will coordinate the activities of NEMA (National Emergency Management Agency) and others, so that the resources can be properly accounted for.
"This is the reason the ministry was set up so that the minister will account to the Federal Executive Council and make sure that the resources are properly utilised."
Buhari lauded local and international partners for their assistance over time, assuring them of continued government commitment.
"I commend the support of our friends and partners who have over the years provided humanitarian assistance to our people in need. At the same time, I also seek their understanding in situations where our sovereignty and national security require more pragmatic and proper consideration.
"This government will continue to evolve ways of ensuring that all humanitarian actors receive the necessary support to carry out their activities safely, in line with established principles and taking cognisance of our national security imperatives," he added.