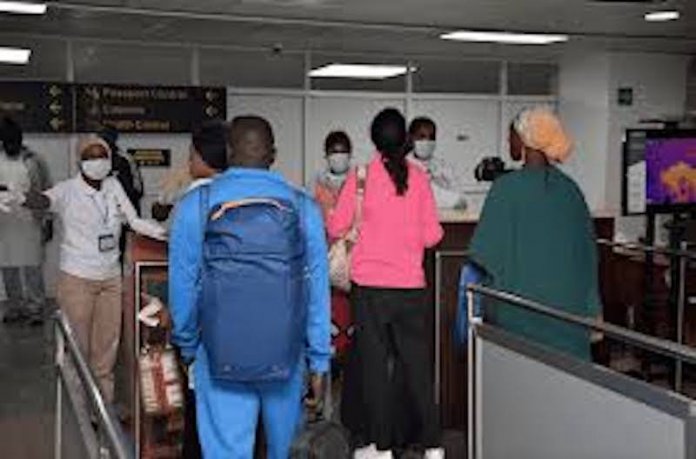 Covid-19/THE CRISES…
•NRC shuts down rail operations
•Death toll rises to 12,978, infected cases jump to 304,035 globally
•Lagos reduces social gathering to 20 people
•Police to enforce restriction order
After recording 11 new cases of Covid-19, bringing the total to 22, but with two fully recovered and discharged, the federal government, on Saturday, announced sterner measures to control the spread of the pandemic. The Nigerian Civil Aviation Authority (NCAA) issued a directive restricting all international flights to all Nigerian airports from tomorrow. But exempted from the ban are "emergency aircraft, state aircraft and any other aircraft that might be so approved by the appropriate authority," according to a clarification by the Nigerian Airspace Management Agency (NAMA) dated March 21, 2020.
NAMA said, "However, any Intentional flight operation that might be so approved shall be required to submit manifest to the Port Health authority prior to arrival in Nigeria.
"Domestic flights shall continue normal operations at all airports."
In a letter addressed to both domestic and foreign airlines, NCAA said in addition to earlier restriction of flights to Kano, Port Harcourt and Enugu airports, it would from tomorrow ban all international flights to Lagos and Abuja airports.
That was as the Emirates Airline said it would be suspending all flights into Lagos and Abuja from its base in Dubai, starting tomorrow, March 23, due to the effect of the Coronavirus. The pandemic has infected 304,035 globally and claimed 12,978 lives, with Italy bearing the highest death number in the world. Italy's daily coronavirus death toll rose by 793 Saturday, bringing the total to 4,825
In further stringent measures to suppress the spread of the virus, the federal government through the Nigerian Railway Corporation (NRC) shut down train services across the country, starting, also, tomorrow.
Lagos State, where the first case of Covid-19 was discovered, announced some new measures as a way of curbing the spread of the virus, chief among which was a reduction in the number of persons at social gatherings. From 50 announced in an earlier directive, the state government reduced the number to 20, and commenced immediate enforcement of the order.
NAMA Shut Airspace to Inbound and Outbound Flights Midnight Today
NCAA, in the letter with ref no NCAA/DG, AIR/11/16/106, dated March 21, 2020 and issued from Lagos, stated, "Further to our earlier letter on restriction of international flights into Nigeria, we wish to inform you that effective Monday 23rd March at 2300Z to 23rd April at 2300Z, Murtala Muhammed Airport, Lagos (DNMM) and Nnamdi Azikiwe International Airport, Abuja (DNAA) will be closed to all international flights.
"This is in addition to the closure of Mallam Aminu Kano Inter
national Airport, Kano (DNKN), Akanu Ibiam International Airport, Enugu (DNEN), and Port Harcourt International Airport, Omagwa (DNPC) effective Saturday 21 March at 2300Z.
"Henceforth, all airports in Nigeria are closed to all incoming international flights with the exception of emergency and essential flights.
"Domestic flights will continue normal operations at all airports. All airlines are required to submit passenger manifest to Port Health Authorities prior to the arrival of flights into Nigeria."
NCAA's Director-General and Chief Executive Officer, Captain Musa Nuhu, signed the letter.
The closure of Nigeria's five international airports to foreign flights effectively marks a lockdown of the country, as airlines and airports record huge revenue losses that could rise to a trillion dollars, if COVID-19 remains unabated in the days ahead.
NRC, in its own letter dated March 21, 2020 and signed by Deputy Director, Public Relations, Yakubu Mahmood, for Board and Management, said the decision to suspend train services was "in view of the report of the already known Coronavirus (Covid-19) outbreak. Further information on passengers' trains services will be made available in due cause to our esteemed passengers."
Apart from suspending operations to the Nigerian airports, Emirates Airline said it would also cancel three already booked flights to the country. It apologised to passengers for the inconveniences caused by the cancellation.
The airline said, "Due to the COVID-19 outbreak and its impact on the aviation industry, Emirates will be suspending operations into Lagos and Abuja.
"EK785/786; EK781/782 and EK783/784, the above listed flights are cancelled from March 23, 2020. We regret any inconveniences that this may cause. As the situation is being reviewed, we will keep you posted. Passengers may visit our website for the latest travel update information."
10 New Cases of Covid-19 Confirmed
Confirming the 10 new cases of Covid-19, the Federal Ministry of Health said three of the new cases were discovered in the Federal Capital Territory (FCT), Abuja, while the remaining seven were from Lagos State. These brought the total number of confirmed cases in Nigeria to 22.
A statement issued Saturday by the Minister of Health, Dr. Osagie Ehanire, said all 10 new cases were Nigerians. Ehanire said nine of them had travel history to Canada, France, Netherlands, Spain and United Kingdom and had returned to Nigeria in the past one week; while the 10th case was a close contact of a previously confirmed case.
The minister said the three cases in Abuja were being treated at the University of Abuja Teaching Hospital (UATH), Gwagwalada, while the seven in Lagos were treated at the Infectious Disease Hospital (IDH), Yaba.
"All 10 new cases have mild to moderate symptoms and are currently receiving treatment. As of the 21st of March 2020, 22 cases have been confirmed, two cases have been discharged and there has been no death from COVID-19 in Nigeria. The Federal Government of Nigeria remains committed to working with states to provide optimal care for all confirmed COVID-19 cases in the country," he said.
Ehanire explained that contact tracing was on-going to identify all persons, who had been in contact with the new cases.
He said Port Health Services of the Federal Ministry of Health had heightened screening at all air, land and sea points of entry into Nigeria and adapted the protocols to reflect the travel guidance issued by the Presidential Task Force on the Control of Coronavirus (COVID-19).
According to the minister, the National Emergency Operations Centre (EOC), led by the Nigeria Centre for Disease Control (NCDC), supported by partners, has continued to coordinate response activities and strengthen preparedness capacity across states nationwide.
He stated, "An intensive national risk communications campaign is on-going to inform Nigerians about COVID-19. The Federal Ministry of Health (FMoH), working closely with states and the Presidential Task Force on the Control of Coronavirus (COVID-19), continues to review response activities and institute measures to protect the health of Nigerians.
"It is important that Nigerians strictly adhere to social distancing and other necessary precautions in place. These measures include taking the following precautions below to protect yourself and your family:
"Wash hands regularly with soap and water or use an alcohol-based sanitiser if no water and soap is available. Social distancing is crucial to reducing the spread of COVID-19 through use of no-touch greetings, maintaining at least two metres distance between yourself and anyone, who is coughing or sneezing.
"Other safeguards include staying home if you feel unwell with symptoms like fever, cough and difficulty in breathing. Immediately call NCDC's 24/7 toll-free number 0800 9700 0010. Do not self-medicate, avoiding or postponing events with large gatherings of people, including schools, workplaces, places of worship, crowded supermarkets and pharmacies, social and sporting events.
"Persons with a persistent cough or sneezing should stay at home until they recover. Make sure you and people around you observe hand and respiratory hygiene by covering your nose with tissue when sneezing or coughing.
"Immediately dispose of tissue in a covered bin and wash your hands with soap and water. Use an alcohol-based sanitiser if no water and soap is available, coughing or sneezing into the sleeve of your bent elbow if no tissue is available and avoid all non-essential travel to all countries."
Lagos State Govt Issues Guidelines
The Lagos State government issued similar guidelines. Announcing this through the Ministry of Information and Strategy, the government said, "The Lagos State Government has banned all religious or social gathering of over 20 people within the state. It is important we all adhere to this directive."
The ministry added, "If you feel sick or have symptoms such as fever, fatigue, shortness of breath, cough or sneezing, call these emergency numbers 08000CORONA, 08023169485 08033565529 or 08052817243."
Police Vows to Enforce Restriction Order
Consequently, the Lagos State Police Command is set to commence enforcement of the ban on social gatherings, clubs, parties, ceremonies and religious congregations of more than 20 persons. According to the Police Public Relations Officer, DSP Bala Elkana, defaulters will face the wrath of the law.
The police in Lagos said, "Lagos State Police Command wishes to inform the general public that the command in compliance with the guidelines and directives issued by both the federal government and Lagos State government on prevention of the spread of COVID-19, which the World Health Organisation has declared as a pandemic, has embarked on massive enforcement of the ban order.
"To that effect, the command has deployed adequate resources across the state to ensure that the orders are fully obeyed. The order imposed bans on social gatherings, such as, wedding ceremonies, naming ceremonies, burial ceremonies, parties, clubs and religion gatherings of people more than 50 (now 20 in Lagos).
"Commercial vehicles carrying passengers above capacity (overloading) are also part of this order. Members of the public are encouraged to avoid overcrowding themselves at bus stops, market places, business places and scene of incidents.
"The Commissioner of Police Lagos State, CP Hakeem Odumosu, called on the good people of Lagos State to obey the safety regulations put in place for the benefit of everyone. We must be alive and healthy before socio-economic activities will be effective.

"The command has rolled out its medical team to market places for awareness creation and police detention facilities to safeguard the safety of suspects. The Commissioner of Police has ordered the immediate release of suspects arrested for minor offences as part of preventive measures. Together, we can prevent the spread of COVID-19."
Already, following Governor Babajide Sanwo-Olu's directive on ban of public gathering above 20 people, a combined team of the Lagos State Environmental Protection Agency (LASEPA) and Lagos State Safety Commission have set out to enforce the ban. The team has sealed Prime Mall Mega Plaza located in Lekki and three other event centres for flouting the state government's directive on public gathering.
Worried by growing cases of the deadly coronavirus in the state, Sanwo-Olu had on Friday banned public gatherings of over 20 people in the state as part of measures to prevent the pandemic.
Speaking during an enforcement operation, General Manager, LASEPA, Dr Dolapo Fasawe, and the Director-General Lagos State Safety Commission, Lanre Mojola, said the safety of Lagosians was paramount to the state government.

Fasawe said it was gratifying that most event centres complied with the directive. She said among the areas visited were a film house at Lekki, Shoprite, Balmoral, Federal Palace Hotel, and the Dome.
The LASEPA head added that the enforcement team also sealed Regency, Maltinos Event & Suites and Imperial at Jobi Felle, Ikeja, as well as Prime Mall Mega Plaza at Lekki, where a surprise party was to be held.
She said, "The banning of public/social gathering by Mr Governor became imperative to save our dear state and prevent our people from contacting the virus. COVID- 19 has become a global pandemic, therefore, serious measures, such as this, must be taken to reduce the spread and further stem the outbreak of the pandemic.
"It is advisable we adopt social distancing by keeping at least six-foot distance between ourselves and others to prevent transmitting the virus seamlessly.
"For now, let us avoid crowds and large gatherings, such as weddings, concerts, sporting events, conferences and so forth. We are not unmindful of the implications of the restrictions, but it is crucial we collectively limit and control the spread.
"Lagos State is not in isolation, it's a global pandemic, therefore, this strong efforts to suppress and push it back for the safety of all."
Fasawe said the inspection and monitoring exercise was not to impose hardship on them but to access the compliance level, educate the public on the need to obey, and ensure total compliance.
"We appeal for understanding and support of all and sundry at this time. We should continuously keep our environment clean, watch our hands and avoid unnecessary contact with people," she added.
On his part, the director-general of the safety commission, Lanre Mojola, expressed satisfaction with the monitoring exercise and enjoined the public to support the government in the fight against the menace. Mojola said the war on the deadly virus could only be won if everyone obeyed a simple directive to avoid actions or activities that could put everyone at risk.
Do you have any information or event for ABUJAPRESS to publish or cover? Kindly Call us on +2349075556668 or send us message on Whatsapp number +2349075556668 or send us an email [email protected]