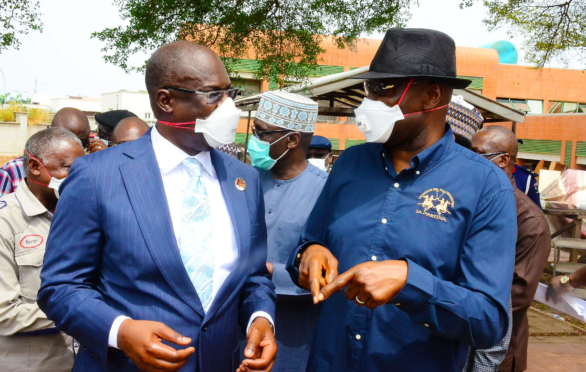 A Nigerian National Petroleum Corp. (NNPC) employee has tested positive for coronavirus in the Nigerian capital of Abuja.
An unnamed individual was found to have the illness at an NNPC estate, in Abuja's Garki area. The company was forced to deny that there was a "mass outbreak of coronavirus" at the facility.
The Nigeria Centre for Disease Control (NCDC) has taken steps to disinfect the apartment, it said. The case was singular and remains an isolated incident.
The individual had recently returned from the UK when he was found to have developed symptoms of the virus. Following this discovery, all the residents were moved out of the building and put in isolation while the NCDC carried out work to "eliminate the chances of community infection".
NNPC said it was working on public awareness campaigns, both within its ranks and among the broader population. In particular, it said the residents of the estate in Garki had been encouraged to adhere to the various safety measures intended to tackle the coronavirus pandemic.
As of April 5, Nigeria has 232 cases of coronavirus confirmed and five deaths. Lagos has 120 confirmed cases while Abuja has 47. These two cities are under lockdown, which has caused a number of difficulties including driving up food prices.
NNPC has agreed to support the fight against the virus, providing a 60-bed facility, while a number of other companies have also announced they would help.
Aiteo Exploration and Production donated five ambulances, for instance, as part of a broader 21 billion naira ($54 million) donation. The Sahara Group has provided bed spaces at the This Day Dome, while China Civil Engineering Construction Corp. (CCECC) has also chipped in.
Do you have any information or event for ABUJAPRESS to publish or cover? Kindly Call us on +2349075556668 or send us message on Whatsapp number +2349075556668 or send us an email [email protected]