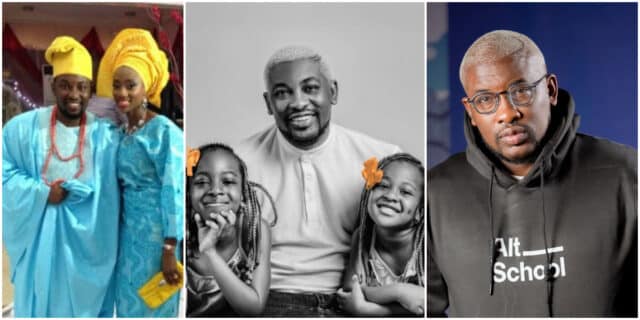 Nigerian media personality and show host, Oladotun Ojuolape Kayode, known as Dotun has called out his ex-wife over custody of their kids.
The custody dispute between Dotun, also known as Oladotun Ojuolape, and his ex-wife Omotayo is growing messier by the day as the OAP has once more criticized her.
The OAP dragged his ex-wife, whom he claimed had denied him access to their two girls, in a lengthy post on his Instagram page.
He said that despite coping with her and her family's wickedness for a full year, he had grown weary of it.
Dotun promised to ensure that every detail about her, from her existence through her third generation, will be posted online.
He added that because the crowd always goes with what is expected and she played the card brilliantly, it was simple for her to harm him.
The OAP declared that he was prepared to protect his name and fight for his right to be present in their lives.
He pledged to publish court records and more, saying that remaining silent wouldn't make him appear dumbfounded.
"This was ruled 6th of July 2022. My Lawyers help me here, please. This is just a snippet. I have waited a whole year dealing with you and your family's wickedness.
I will make sure that every little piece of information from your existence to your 3rd generation will be available here. It's easy to hurt me cos the mob always chose the expected hence you played this card.
I don ready for Una now…..
Listen! Now I am ready to fight.
Taiwo @FIFIFUUDIES you have lived through this lie for too long. You see that thing you paid the press to say about me. Domestic violence, I came to your house to violently assault your staff to pick my kids and forced abortions that I let you play with, the time has come for you to be accountable for it cos I will be releasing receipts, video evidence;
Full recordings, witnesses, voice notes. As court no gree rule for contempt of court for over a year. It's time for me to be my own judge & jury", part of his write reads.
Do you have any information or event for ABUJAPRESS to publish or cover? Kindly Call us on +2349075556668 or send us message on Whatsapp number +2349075556668 or send us an email [email protected]